After nearly 3 months and having a good deal of my roots grown out, I finally made a trip to the hairdresser to fix my hair before Chinese New Year celebrations roll by. If you're wondering about the title of this post, this is Sheryl Nome: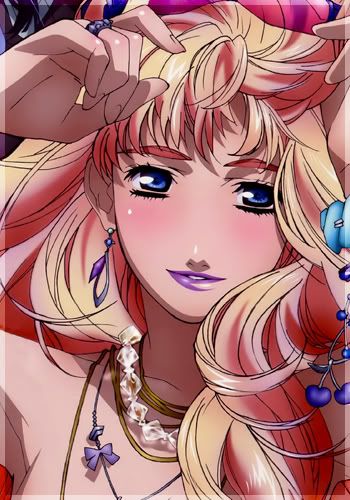 She's one of the main characters in the anime, Macross Frontier, and as you can clearly see, her hair is a mixture of blonde and pink. So from the moment I started getting pink streaks done to my hair, alot of my friends, especially those in the cosplay circle, have constantly teased me about having my hair like her. It is flattering and fun, but all the teasing can get a tad annoying at times plus I was starting to get bored of my current hair. So I decided to get a change in hair colour.
This is the last picture of me with my old blonde hair. The pink streaks had faded out quite abit and were only visible as low lights.
Typically, I waited till the last moment to decide what my new hair colour would be. I was randomly scrolling through various pictures in my iphone when I chanced upon this old picture of Sakurina:
I immediately fell in love with the deep reddish/pinkish shade of hair with the black streaks. So I requested a similar do from my hairdresser.
This is the resulting hair colour. (Pardon my face, I have the barest of makeup on and it was a long day at school, then at the salon)
Unfortunately, the hair colour is brighter then what Sakurina had, and, despite having added some darker low lights to my hair, my hairdresser didn't extend them all the way down so I have more like a reddish/purplish tone hair right this instant.
I quite like the colour as it's something totally different from what I've had for awhile now, and I also finally got my blunt fringe back. I've really missed it despite being bored with it awhile back, hence the growing out stage.
The colour is alot bolder in a more subtle way (am I even making sense here?) and it's helping me adjust to having darker hair. Somehow, the thought of having darker hair kindda scared me after having light -coloured hair for such a long time, but it's a nice transition so far. I only hope that the colour doesn't fade out too fast, somehow, my bleached hair can no longer retain colour for long.
Anyone else making changes to their image for Chinese New year celebrations?